Inside RAT Tales
New Members
Spotlight on members
Puppies
In Memorium
Meet Candace Smith with Lani & Mac
Candace has two Standard Poodles, Lanie 4 years old and Mac who will be one year old on November 26th.
She has competed in CPE,NADAC & ASCA with Lani.
Mac is still at the goofy stage but more mellow than Lani.
Meet Caroline Fox with Quigley
Quigley is an ACD/Corgi mix and League will be Caroline's first time running agility outside of class.
Caroline & Quigley above.
Meet Dawn Dockter and David Onstad with Ava
Ava is a Shetland sheepdog, 5 years old. We are not competing in any venue. We are just getting back into dog sports after covid, but have plans to compete when we are ready.
Meet Katey Togesen and Ripley
Ripley is almost 3 and is a border collie/heeler mix. Katey trains with Susan Perry and will hopefully have our first agility trial at the ZAP in October.
Meet Kori Bolye and Lady
Korie Boyle with Lady. Lady is a black and white Border Collie & Standard Poodle mix. She is 3 years old and Korie says she is an agility newbie. She trains with Sandra Katzen at Vortex.
Puppies
Natalie Baker is getting this sweetie Oct 28th – he needs a name!!!
Suggestions? Email Natalie
Spotlight on Members
Chris and William Edmark
RT: Tell us about your dogs and where you live?
William & Chris We live off exit 88 on I-5, about 25 minutes south of Olympia. We own Da Paws Place, a 6000 sq ft indoor covered arena with a dirt floor. It is open to rent for individuals and groups. Chris also offers private lessons.
We are the proud parents of 3 Papillons and 2 Border-Paps. Gunner is a little over 15 years old and has lost most of his eyesight. Jamie is 9 years and is a great companion dog. Ziggy is still in competition; he has an ATCH, a CATE and 4 Catches. Pint is a Border-Pap and only 16 months. He is taking his time learning Agility. Pint is the newest member of our family and is 11 weeks old.
Our dogs love to snuggle and also have lots of fun doing agility with Chris.
RT: How did you get interested in Agility?
William: We were watching TV like "normal" people when I saw an agility competition. I thought that Chris and Henry would like that so she started taking lessons and her passion for agility was ignited! She competes in CPE and ASCA. Agility is all we do with our dogs.
RT: What do you like about being RAT members?
Chris & William: We have enjoyed the RAT members that we have met at the CPE and ASCA trials. Chris is very active building courses and working at trials. We are also active members of Top Dog Agility Club.
RT: What other things do you do?
Chris & William: William is retired and taking care of Da Paws. Chris is looking forward to retirement in the near future
Gunner pictured on the Left
In Memorium
Bandit August 13, 2006 – October 16, 2022
We were blessed to have had Bandit in our lives for 16 years. He was BEYOND special and as I am flipping through his photo folders I am reminded of his grace, humor, kindness and dignity in almost every photo. He was great with all creatures: children, old people, ANYbody. He was kind to other dogs both pups and mature dogs….Many students were helped to learn agility ropes handling him. The public loved to watch him doing demos at the Stanwood Fair every year for years. He had a terrific sense of humor and initiated silliness whenever he could. Bandit was a MOST loving companion and cared to personally greet EVERYone that he ever met and once he met you, he remembered you and made sure you knew it the next time he saw you. We will miss him beyond words.
Appreciate your time with your fuzzy buddies…No matter how long they are here, it is never long enough.
Grieving,
Heather & Michael
In the last RAT Tales Heather & Michael Bruce celebrated his 16th birthday. Today we are sadly posting a memorial to a sweet handsome boy, loved by his family.
My daughter came to say Good Bye and joined us in the backyard, and went through the whole sad process with us, ending, of course, with this magnificent presence gone from this earth. At the literal precise moments that the final shot was administered, our other 3 dogs who were in the house, began mournful howling. Dr. Kelli said she'd never had other pack members howl when their pack member passed over. It was eerie and terribly sad. Bandit did look peaceful and out of pain; the pain transferred to our hearts. Michael buried him under the asian pears, where Bandit used to love digging and barking back in the days when he was able.
We just celebrated Bandit's 16th birthday recently and we are fortunate to have been able to do so. He was featured in the last issue of RAT Tales and we were very touched.
However, it is with aching sadness that we send the news that last Sunday afternoon, Dr. Kelli Smith of Compassion 4 Paws helped our Sweet Bandit Boy out of his pain and over the Bridge to join Sadie, Jule and Xena, his fellow pack members and agility buddies. Dr. Kelli couldn't have made the process any easier for any of us, especially Bandit. Still it was one of the hardest things we've ever had to do: to send off our Special Fuzzhead Friend that we love so well. There is a hole in our hearts and the house feels cold, like an Angel has taken flight out of here.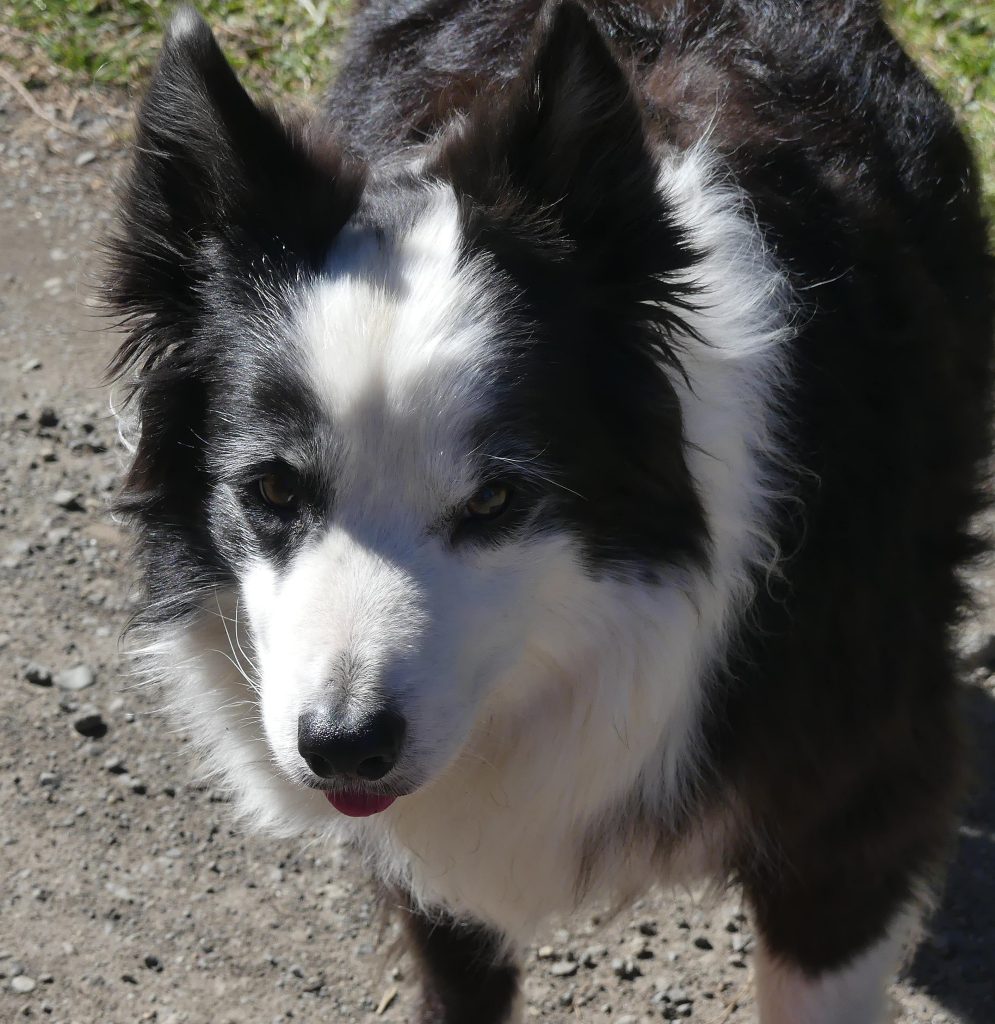 *Note from RT Editor – always feel free to send me memorials for your beloved fur friends.